2014 FESTIVAL
The 2014 Irish Steel Guitar Festival will take place on the weekend of 18th and 19th October at the Green Isle Hotel, Newland's Cross, Dublin.

The Green Isle Hotel is now part of the Great National Hotels and Resorts Group.To book a room at the hotel phone +353 1 4593406 (or 01 4593406 within Ireland) and select option 1. This will connect you to a central reservation group who have all the required information for room rates for the Steel Guitar Festival. When you are talking to them make sure to tell them you are booking for the Irish Steel Guitar Festival.

You can also book by e-mail at reservations@greenislehotel.com. E-mails will go directly to the hotel, mention the festival in your e-mail to avail of the special booking rates.

If you have any problems or difficulties booking, contact us via the Contact page and we will attempt to resolve the issue from here.

the address of the hotel is Green Isle Hotel, Newlands Cross, Dublin 22, Ireland. and their website is www.greenislehotel.com


This year's featured player is

Buck Reid

.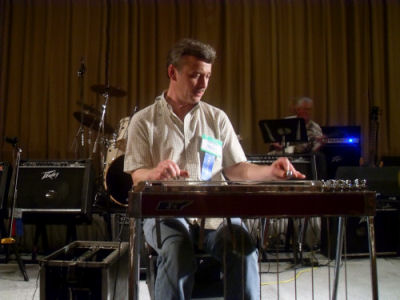 Buck's music career started at the age of 11 when, inspired by his dad, a well known steel guitarist, he took up guitar and a few years later moved on to pedal steel. At 15 he was playing with a well known local band and also played on the famous "Wheeling Jamboree" radio show.

A few years later he auditioned for a job with Nashville singer John Anderson, he got the job and in 1982 moved to Nashville. After touring and recording with John for 8 years, Buck went on to either tour or record with many artist's such as... Rob Crosby, Chely Wright, Michelle Wright, Keith Urban and The Ranch, Jerry Kilgore, Matt King, Sting, Marcus Hummon, South 65, Confederate Railroad, Cindy Lou Harrington, Bill Anderson, Mark Miller of Sawyer Brown, LeAnn Rimes, Dierks Bentley and is currently playing with Lyle Lovett and his Large Band.

In 2006 and 2007, he added two major motion picture sound tracks to his credits,Runaway Vacation (Sony/Columbia Pictures) and Charlie Wilson's War (Universal Pictures).

Buck's main steel, a JCH, was built in 2001 by himself and Jimmie Crawford.
His website is www.buckreid.com




this is the confirmed list of players who will play





Buck Reid (USA)

Mark Horn (Germany)

Ken Byng (England)

Peter Nylund (Finland)

Francoise DeVille (England)

Percy Robinson (Ireland)

Frankie Lane (Ireland)

Paul Brennan (Ireland)

Sarah Jory (England)

Lionel Wendling (France)

Arthur James (Wales)

Kevan Bartholomew (England)

Willie Gamble (Scotland)

Aidan Cunningham (Ireland)

Richard Nelson (Ireland)

Sugar Moon Orchestra (Ireland)



M.C.
Tony McGrath (Ireland)





This list may change due to circumstances beyond our control.