About 6 months after I started playing steel guitar in 1989 a neighbour put me in touch with a country singer who performed every Wednesday night in a pub about two miles from where I lived. I had heard about this singer, he was from Nashville, Tennessee and had been in Ireland for about two or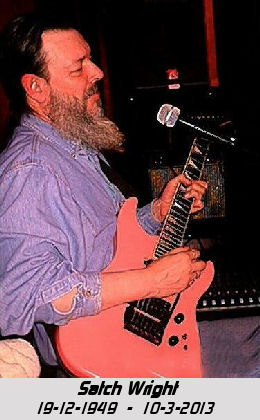 three years; he had a band and performed regularly in "Bad Bob's", a well known country music venue in Dublin in the 80s and 90s. He was the "real thing" and I had an offer to sit in on his solo gig in Heinz Lounge in Rathmines the following Wednesday.
I got through that first gig despite my lack of ability on the steel and in typical American fashion, Satch was encouraging and supportive and invited me back the following week. I came back the next week and every week for the next six or seven months until that gig finished and shortly after that I joined Satch's band.
That lasted for a year or so and then split up and a few years later reformed. In the late 90s I lost touch with him until one day in April 2009, out of the blue, I got a call from him to say he had a gig the following Tuesday and could I come to a rehersal. He was the now lead guitarist and vocalist in a new band called SpiritRiders and I noticed he had aged, he had a long grey beard and his lifestyle had taken it's toll, but it was good to be back playing with him.
Over the next three years the band played wherever and whenever the opportunity arose and despite his failing health Satch was still a great performer. In January 2010 we did some recording in Beechpark Studio in Rathcoole and videos of that session are on YouTube. We played at the 2012 Irish Steel Guitar Festival and it was obvious that now, his health was affecting his performance. That was the last time he played with the band and sad to say, just after 4am on Sunday 10th March he passed away in St. James' Hospital, Dublin.
May he Rest In Peace.


Joe Ryan March 2013